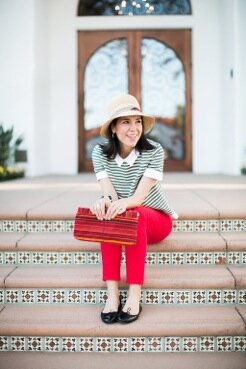 Catherine Bachelier Smith is the founder of CBS Lifestylist, a California-based event, wedding and wardrobe styling business. With more than 18 years' of experience, she is Southern California's go to source for personal styling and event management.
Catherine is Mexican, bilingual, and hails originally from Nogales, a small town on the border of Arizona and Mexico. As one of nine children, and born as a triplet, Catherine was destined to carve out her uniqueness and yet, at the same time, be connected very closely to others. It makes sense that Catherine's career trajectory started, and remains, in the helping of others. With a B.S. degree from the University of Arizona, she spent two years nursing in OB/GYN followed by two years in pediatrics. She enjoyed an additional four years as a project manager for state funded health programs within the nursing, program development and management fields.
Catherine eventually left her beloved field of nursing to be a full time mother and to pursue her love of weddings and fashion. As the boys grew older and more independent, Catherine was eager to start a new career. A photographer friend suggested she would be perfect for coordinating weddings. Catherine spent a year studying the industry and profession, was hooked, and soon she found another way to help others in their journey to be connected.
Since 2000, Catherine's wedding business has grown exponentially. She's made a mark for herself by adapting to wedding clients' various needs, maintaining excellent relations with top vendors in Southern California and creating a presence in print media with both her fashion styling skills and beautiful wedding event productions.
In 2011, Catherine embarked upon a major change within her business model. She wanted to continue to produce weddings, while pursuing the other interests that kept her inspired and connected to others. With her strong-willed confidence and drive, Catherine's venture, CBS Lifestylist, came to fruition. Combining her creativity with her people-loving skills, Catherine combined her main interests into an all-encompassing career that weaves her expertise as an author, personal stylist, professional wedding planner and internationally sought after expert and speaker.
A genuine true force of nature, Catherine inspires those around her to reevaluate their self in a positive way. Using a personalized approach to presenting the best version of you, Catherine's guidance is effective, easily and immediately incorporated, and has a tremendously positive impact.